Mediterranean Fan Palm Trees In Houston
Mediterranean Fan Palm Tree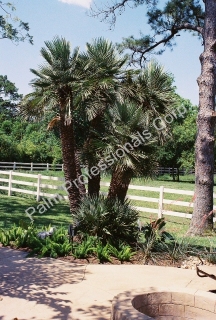 The Mediterranean Fan Palm is one of the most cold resistant and freeze tolerant palm trees in the world. This Med Fan Palm Tree is a great accent palm for landscaping that does not take up large areas. Also known as European fan palm, Mediterranean dwarf palm or dwarf fan palm.It is used to compliment other tropicals in the landscaping and won't block features around it in the landscaping, but when the properly selected Mediterranean Fan Palm specimen is selected, these palm trees can be the focal piece in any tropical landscaping.. The Mediterranean Fan Palm is very slow growing compared to other palm trees. It has short very dark green fronds and a dark colored furry trunk. This palm tree is used greatly in commercial and residential landscaping around the Houston area ands many other parts of Texas.
See Where To Buy Mediterranean Fan Palm Trees In Houston, Texas and Other Palm Trees For Sale In Houston Areas.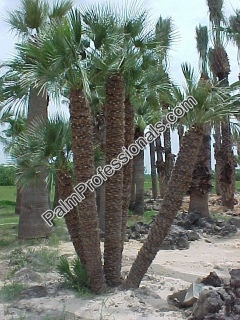 Due to its rusticity and resprouting ability after fire, it has a high ecological value for preventing erosion and desertization. This charismatic palm is thus considered one of the most important species in the natural conformation of the "garrigues" and "macchias" of the Mediterranean coastline. The leaves of the adult plants have been used in basketweaving to make mats, carrier baskets, and brooms. The young unopened leaves are treated with sulphur to make them softer and supple and are then used for finer work. The husk, known in southern Spain as "higa", is edible before its full development. The fruits are not edible but have been traditionally used in medicine as an astringent because of their bitterness and high tannin content. Because its natural habitat is rapidly declining due to urbanization and other human activities, conservation concerns and protection regulations of this Mediterranean endemism are rising. In some areas, including its northernmost native location, it is seriously threatened by an introduced South American moth Paysandisia archon.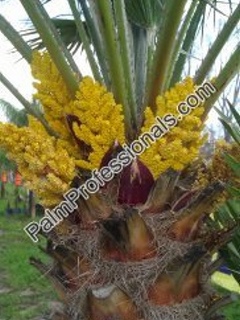 It is a shrub-like clumping palm, with several stems growing from a single base. The stems grow slowly and often tightly together, eventually reaching 2–5 m tall with a trunk diameter of 20–25 cm. It is a fan palm (Arecaceae tribe Corypheae), with the leaves with a long petiole terminating in a rounded fan of 10–20 leaflets; each leaf is up to 1–1.5 m long, with the leaflets 50–80 cm long. It also has numerous sharp needle-like spines produced on the leaf stems; these may protect the stem growing point from browsing animals. The flowers are borne in dense, short inflorescences at the top of the stems; it is usually (but not invariably) dioecious with male and female flowers on separate plants. The prophyll covers the flowers until the sexual phase (anthesis) and then splits open apically into two triangular lobes. The number of flowers per inflorescence is highly variable for both male and female plants, depending on the size of the inflorescence. Female flowers are tri-ovulate.[5] Unripe fruits are bright green, turning to dull yellow to brown when ripe during the fall (September–November). The seed (usually 0.6–0.8 g) comprises a small cylindrical embryo, which is surrounded by several layers, from inner to outer: (1) a nutritious endosperm, (2) a wide woody layer or endocarp, (3) a fleshy and fibrous mesocarp (the pulp), and (4) the thin outer layer or exocarp.[6] It has an underground rhizome which produces shoots with palmate, sclerophyllous leaves.
See Where To Buy This Cold Hardy Palm Tree In Houston, Texas and Buy Other Palm Trees For Sale In Houston, Texas.

Call Us Today At Palm Professionals Tropical Nursery 713-621-PALM (7256)
Schedule A Tour To visit our Houston Area Palm Tree Farm And Tropical Nursery and talk with a palm tree specialist for free at:

20113 Southwest Freeway
Sugar Land, TX. 77479
CLICK HERE To Browse The Largest Selection Of Palm Trees Available For Sale In The Houston Area, Find Out Where To Buy These Quality Palm Trees, Tropicals, and Talk Personally With Houston's Palm Tree Specialists.
Other Helpfull Palm Tree Information:
Types Of Palm Trees For Sale In Texas &nbsp| &nbspHire a Palm Tree Expert &nbsp| &nbspPictures Of Palm Trees &nbsp| &nbspPrices Of Palm Trees For Sale In Texas &nbsp| &nbspBuying and Selling Palm Trees Article &nbsp| &nbspBest Places To Purchase Palm Trees In Texas At Wholesale Prices &nbsp| &nbspMedjool Date Palm Trees For Sale In Houston, Texas &nbsp| &nbspPalm Tree Care In Houston, Texas
Buy Palm Trees In The Following Texas Cities:
Buy Palm Trees In Houston, Texas
Buy Palm Trees In Dallas, Texas
Buy Palm Trees In San Antonio, Texas
Buy Palm Trees In Austin, Texas
Buy Palm Trees In Corpus Christi, Texas
Buy Palm Trees In Victoria, Texas

Palm Professionals Tropical Nursery
is a palm tree nursery located near Houston, Texas at address:
20113 Southwest Freeway
Sugar Land, Texas 77479