Pygmy Date Palm Trees In Houston
Pygmy Date Palm Tree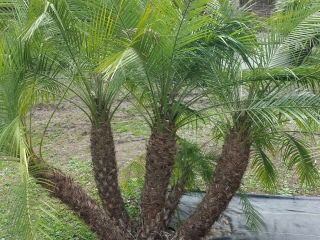 Phoenix roebelenii, with common names of pygmy date palm, miniature date palm or just robellini, is a species of date palm native to southeastern Asia, from southwestern China (Yunnan Province), northern Laos and northern Vietnam, (in Dien Bien Province, Ha Giang Province, Cao Bang Province, Lang Son Province). The name is sometimes mistakenly cited as roebelinii.
See Where To Buy Pygmy Date Palm Trees In Houston, Texas and Other Palm Trees For Sale In Houston Areas.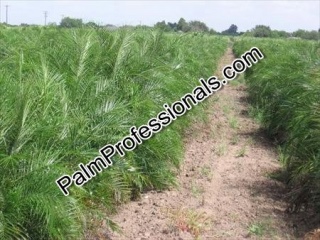 Phoenix roebelenii, is a popular ornamental plant in gardens in tropical and subtropical climate areas. With a minimum temperature requirement of 26 Fahrenheit. in cooler areas it is grown under glass or as a houseplant. It needs little pruning to develop a strong structure, is resistant to pests, is tolerant to soil variation, and is moderately drought tolerant. The plant grows in partial shade to full sun, with the local climate determining where to plant.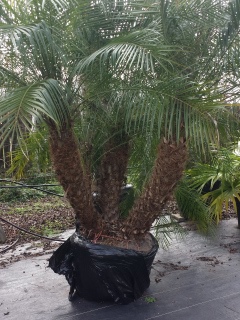 Phoenix roebelenii is a small to medium sized, slow-growing slender tree growing to 2–3 metres (6.6–9.8 ft) tall. The leaves are 60–120 cm (24–47 in) long, pinnate, with around 100 leaflets arranged in a single plane (unlike the related Phoenix loureiroi where the leaflets are in two planes). Each leaflet is 15–25 cm (6–10 in)15–25 cm long and 1 cm broad, slightly drooping, and grey-green in colour with scurfy pubescence below. The flowers are small, yellowish, produced on a 45 cm (18 in) inflorescence. The fruit is an edible 1 cm drupe resembling a small, thin-fleshed date.
See Where To Buy This Palm Tree In Houston, Texas and Buy Other Palm Trees For Sale In Houston, Texas.

Call Us Today At Palm Professionals Tropical Nursery 713-621-PALM (7256)
Schedule A Tour To visit our Houston Area Palm Tree Farm And Tropical Nursery and talk with a palm tree specialist for free at:

20113 Southwest Freeway
Sugar Land, TX. 77479
CLICK HERE To Browse The Largest Selection Of Palm Trees Available For Sale In The Houston Area, Find Out Where To Buy These Quality Palm Trees, Tropicals, and Talk Personally With Houston's Palm Tree Specialists.
Other Helpfull Palm Tree Information:
Types Of Palm Trees For Sale In Texas &nbsp| &nbspHire a Palm Tree Expert &nbsp| &nbspPictures Of Palm Trees &nbsp| &nbspPrices Of Palm Trees For Sale In Texas &nbsp| &nbspBuying and Selling Palm Trees Article &nbsp| &nbspBest Places To Purchase Palm Trees In Texas At Wholesale Prices &nbsp| &nbspMedjool Date Palm Trees For Sale In Houston, Texas &nbsp| &nbspPalm Tree Care In Houston, Texas
Buy Palm Trees In The Following Texas Cities:
Buy Palm Trees In Houston, Texas
Buy Palm Trees In Dallas, Texas
Buy Palm Trees In San Antonio, Texas
Buy Palm Trees In Austin, Texas
Buy Palm Trees In Corpus Christi, Texas
Buy Palm Trees In Victoria, Texas

Palm Professionals Tropical Nursery
is a palm tree nursery located near Houston, Texas at address:
20113 Southwest Freeway
Sugar Land, Texas 77479